Diamond Jewelry Gift Ideas Under $1000
A Gift Guide For Holiday Season 2023
The holiday season is the perfect time to show your loved ones just how much they mean to you. What better way to express your sentiments than with the timeless elegance of diamond jewelry? In this gift guide, we'll explore dazzling options under $1000 to help you find the perfect sparkle for that special someone!
Are Diamonds a Good Gift?
Diamonds have long been regarded as a symbol of everlasting love and commitment, making them a perfect gift for special occasions. Whether it's a holiday, anniversary, or a milestone celebration, a diamond piece from Gem Jewelers Co. is a timeless and meaningful way to express your emotions.
Can we give a diamond as a gift?
Absolutely! Diamonds are not only a symbol of love and commitment but also a versatile and cherished gift for various occasions. The enduring beauty of diamonds makes them suitable for anyone, making it a gift that truly stands the test of time.
Are there diamonds that cost under $1000?
Yes, indeed! At Gem Jewelers Co., we understand the importance of making luxury accessible. Our carefully curated selection includes stunning diamond pieces priced under $1000, allowing you to find the perfect gift without compromising on quality or elegance. Each piece is crafted with precision and attention to detail, ensuring that you can share the joy of giving a diamond without exceeding your budget.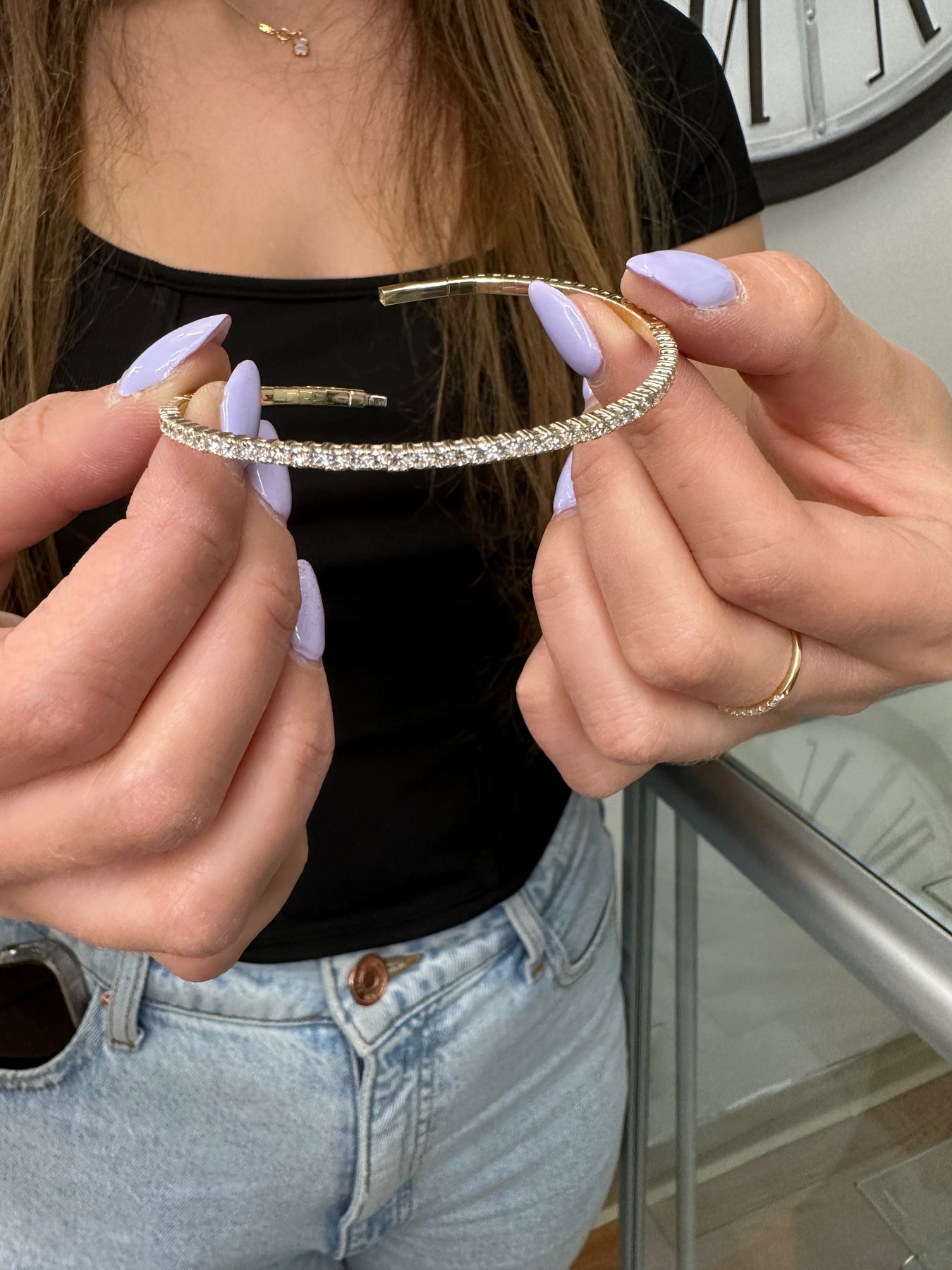 Our Flexible Diamond Bangle in 14K Solid Gold is a testament to the delicate balance of sophistication and versatility. Priced at $1,387.00, this bangle is adorned with carefully set diamonds that catch the light with every movement, creating an alluring sparkle. Its flexible design ensures a comfortable fit, making it an ideal accessory for any occasion.
For a gift that symbolizes eternal love and commitment, our 1.00CT T.W Round Brilliant Diamond Eternity Band is a splendid choice. Priced at $975.00, this band features diamonds of VS2 clarity and G color, ensuring a brilliant and eye-catching display of light. The U-prong setting adds a touch of modern elegance, making it a timeless piece that can be cherished for a lifetime.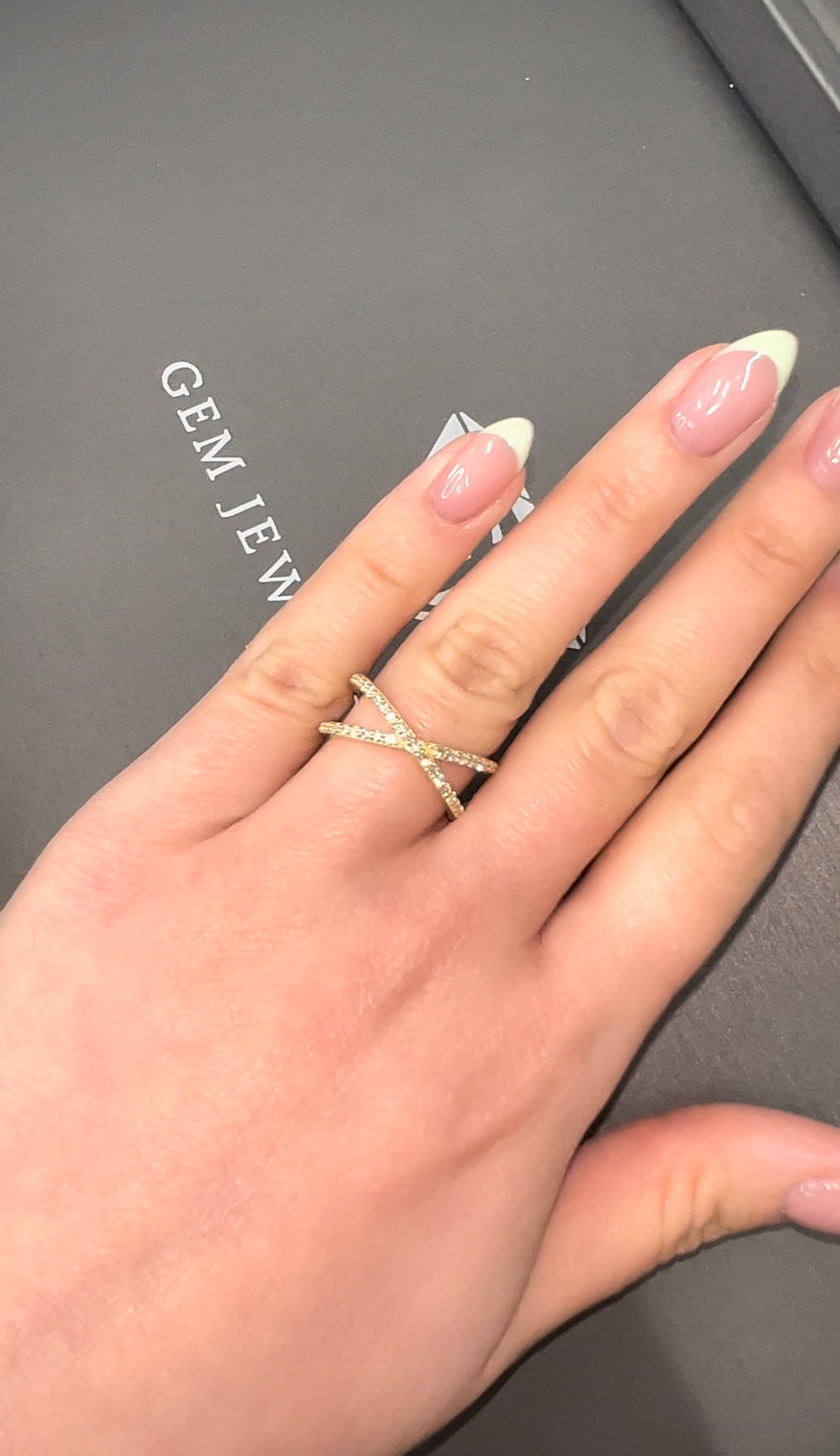 The Crossover Double Diamond Ring is a true work of art that seamlessly blends classic and contemporary design elements. Priced at $1,626.00, this ring features two bands that elegantly cross over each other, each adorned with glistening diamonds. The unique design symbolizes the intertwining of two lives, making it a meaningful gift for a loved one. 
Our Top Picks For You: Gift Sets
Tired of thinking of the perfect gift? We curated sets so you can get the perfect pair in one affordable gift package!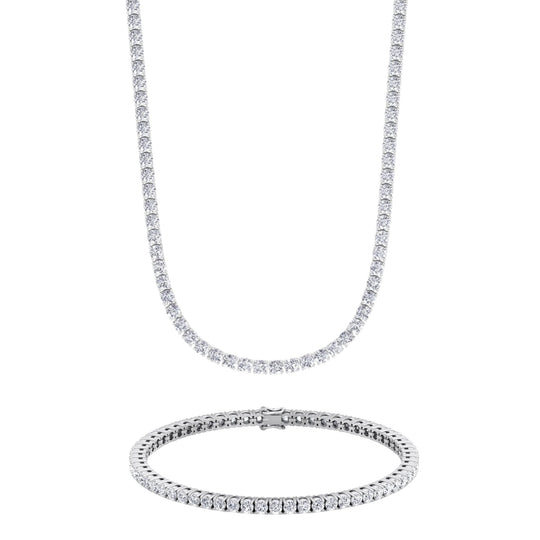 Let's kick off the festivities with our show-stopping Diamond Tennis Necklace and Bracelet set. The 6.31CT Diamond Tennis Necklace is a true statement piece that will adorn your neckline with a breathtaking display of brilliant diamonds. It also comes with a 3.45CT Tennis Bracelet to create the most perfect pair for any holiday gathering. This set the perfect choice for those who appreciate timeless elegance. With an affordable price tag, it's an exceptional gift that will be cherished for years to come.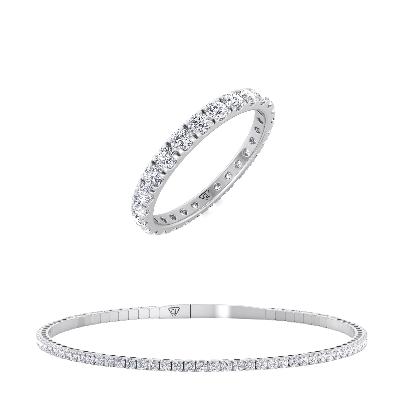 For those who are looking for a contemporary twist on classic designs, our Round Cut Diamond Eternity Band and Flexible Diamond Bangle set is the perfect choice. The 1CTW Round Cut Diamond Eternity Band is a versatile piece that can be worn alone or stacked with other rings for a trendsetting look. Paired with the 1CT Flexible Diamond Bangle, this set effortlessly transitions from day to night, adding a touch of glamour to any outfit.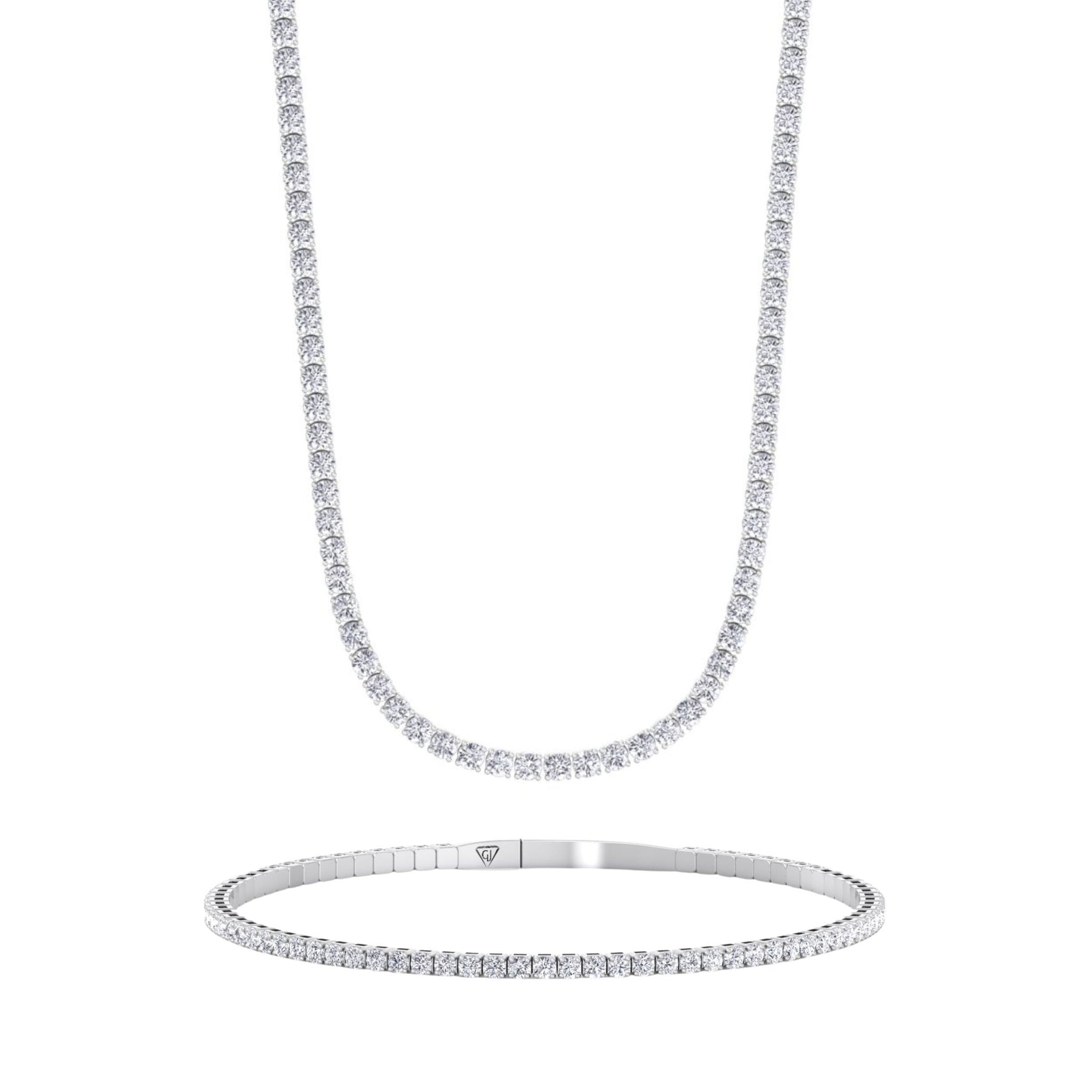 For those who appreciate understated glamour, our 4CT Diamond Tennis Necklace and 1.05CT Flexible Diamond Bangle set strikes the perfect balance between sophistication and subtlety. The 4CT Diamond Tennis Necklace graces the neckline with a delicate shimmer, while the 1.05CT Flexible Diamond Bangle adds a touch of sparkle to the wrist. The 14k Solid Gold setting enhances the natural radiance of the diamonds, making this set a versatile addition to any jewelry collection.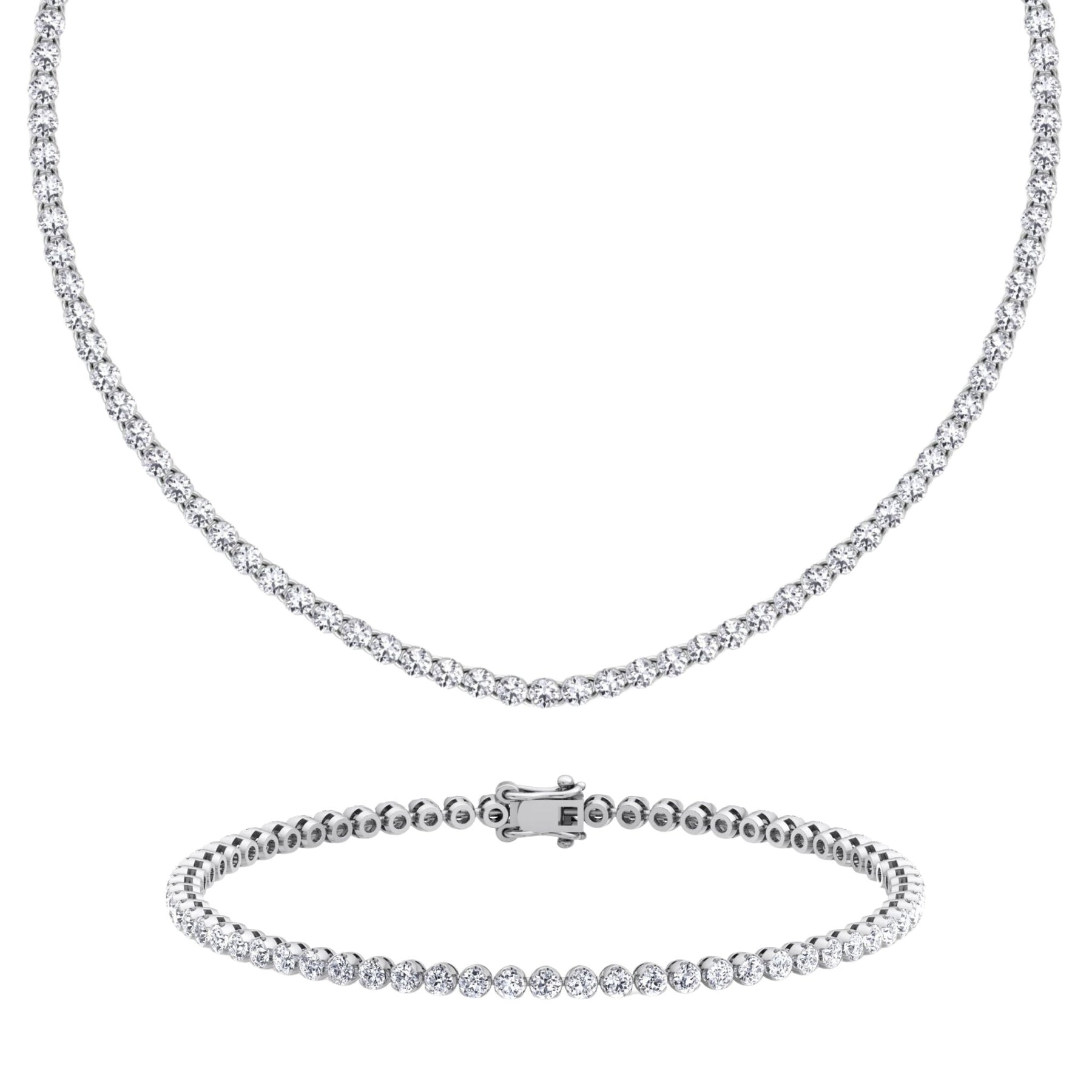 Our last recommendation for the perfect holiday present is our Crown Prong Diamond Tennis Necklace and Bracelet set. The distinctive crown prong setting elevates this set to a level of sophistication fit for royalty. The 6.4CT Diamond Tennis Necklace will give your neckline a sparkling radiance that will surely turn heads. Paired with the 4CT Crown Prong Diamond Tennis Bracelet, this set creates a cohesive and regal look that's perfect for holiday soirées and special occasions. 
This holiday season, indulge in the joy of giving with Gem Jewelers Co.'s carefully curated gift sets. Each piece is a celebration of affordable luxury made with high-quality diamond jewelry that you will surely cherish for the years to come. Choose Gem Jewelers Co. for a holiday season filled with elegance and joy.
---